Varmt välkomna att fira Midvinter solståndet tillsammans med våra vänner Pacos <3<3<3
SOLSTICE CEREMONY WITH THE PAQOS
December 21st 2022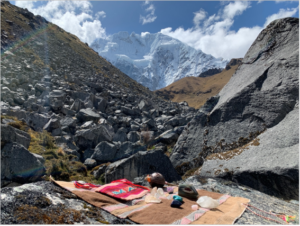 Dear Soul Cosmic Ayllu,
Join us to celebrate all together our December solstice ceremony where we will offer gratitude to Mamapacha – Mother Earth for the beauty and all healing energetic manifeststions along the year. And we will welcome the new year with prayers through our Mama Coca leaf to be guided by the Apus and high frequencies of energies.
Let's embrace the powerful energy of the solstice, it will help us in our process of evolving, growing, awakening a new global consciousness.
This event will be presented on Zoom
Cost: USD 40 or € 40 to PayPal: https://paypal.me/luisamarumayu
Register to participate via email to: luisamarumayu@gmail.com I will send you the Zoom link.
Ceremony Time: Peru time PET 11:00AM
Germany, The Netherlands, Switzerland, Sweden and Austria: 5.00 PM
UK, Ireland: 4.00 PM
Chicago: 10.00 AM
Duration: 1 hour and 15 minutes
With Munay. Serena Anchanchu Ayllu.